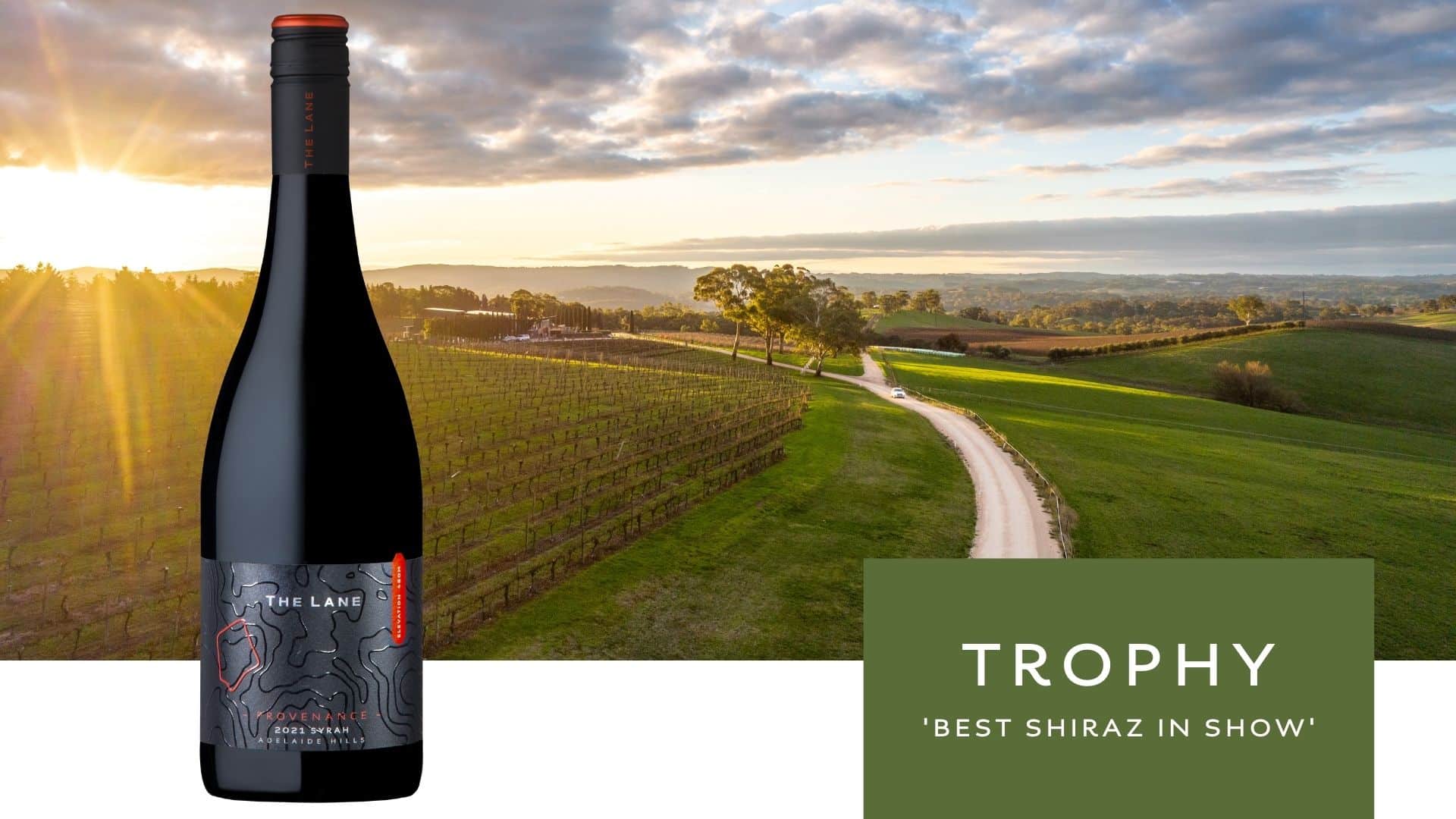 15 Jul

2021 Syrah Wins Trophy for 'Best Shiraz Wine of Show'

The Lane Vineyard 'Provenance Syrah' named Best Shiraz in Show

In a celebration of the nation's finest wines and producers, today's Royal Queensland Wine Awards has given The Lane Vineyard's 2021 Provenance Syrah the trophy for "Best Shiraz" of show.

This is the third trophy for The Lane Vineyard and chief winemaker Turon White in the last six months – following wins for the 2019 Heritage Shiraz Viognier at the Adelaide Hills Wine Show in December and the 2021 Provenance Cabernet Franc at the National Wine Show in Canberra last month.

Turon says "After taking over as Head Winemaker at the end of 2018, we've been working hard in the winery and vineyard to really bring the best out of the estate.

Taking lessons from the past we have initiated a large evolution in our viticultural practices, block and sub block selection. The hard work and attention to detail from the winery team has really captured the best and unique qualities of our fruit. 

The 2021 Provenance Syrah beautifully expresses this evolution and we're beyond thrilled to be recognised at this year's Royal Queensland Wine Awards" said White.

The origins and quality of our fruit are things that we value highly at the Lane. Our Provenance range are small-batch artisan wines that deliver stunning and evocative expressions of their varieties, styles and individual vineyards of origin. Carefully grown and crafted to honour and preserve an identity of place.

The Lane Vineyard CEO Jared Stringer says "To take out top Shiraz against more than 300 entries in the Shiraz classes at this year's show is an incredible achievement for our winemaking and viticultural teams. We're thrilled and proud at the recognition received at today's awards and look forward with great optimism for the future at The Lane"

All Results from Royal Queensland Wine Awards:
Trophy for "Best Shiraz Wine of Show" – 2021 The Lane Vineyard Provenance Syrah
GOLD – 2021 The Lane Vineyard Provenance Syrah
GOLD – 2021 The Lane Vineyard 'LDR'
ABOUT THE WINE
A cool-climate Syrah displaying aromas of wild blackberry, raspberry leaf, marjoram and violets. An intense palate of boysenberry, mulberry, black cherry and fennel with firm tannins and a fine acid line.
450m above sea level | North East facing | Clone 1127 / 2626 | ancient soils, mostly gravel with calcium silicates and ferrous pebbles throughout
RRP $45 AUD
Don't miss your chance to stock up on this award-winning wine. Supply is extremely limited and available exclusively to our Gathering Club members.
Click here to shop now.
Not a member yet? Join now and gain access to the Syrah along with the rest of the Provenance series, plus incredible member discounts and perks!